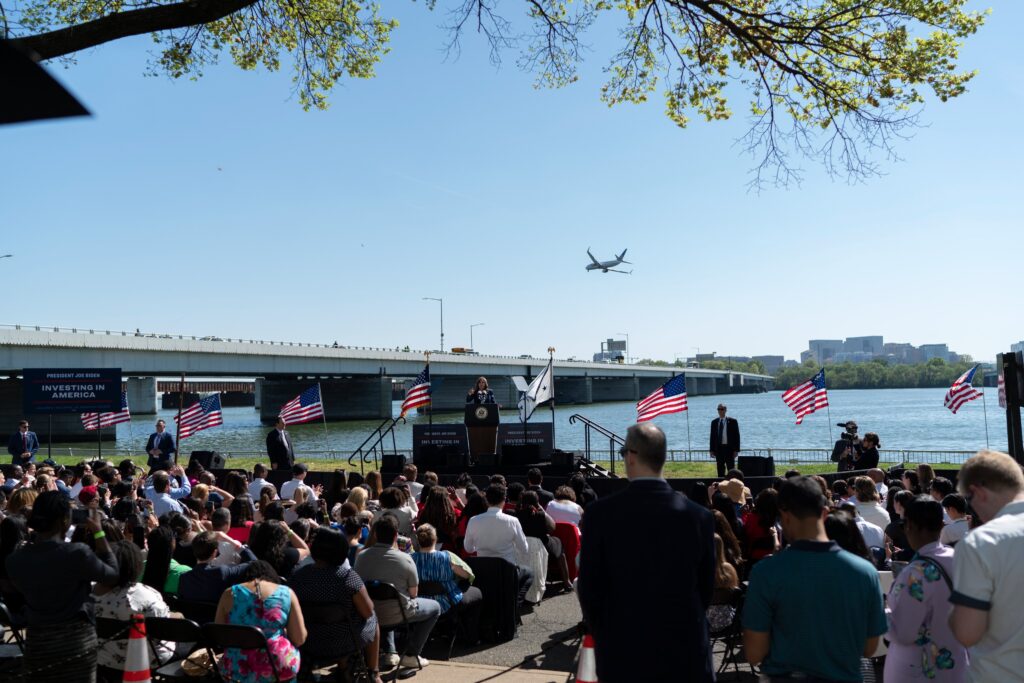 The fixes to the heavily-used span leading into the nation's capital will be largely paid for with federal infrastructure funding.
Vice President Kamala Harris went down to banks of the Potomac River in Washington DC on Thursday to make an announcement that will be of great interest to Washington-area locals: The 14th Street Bridge is getting repaired, and the federal government is putting $72 million into the project.
Locals includes yours truly. I have lived in Maryland, Virginia, and the District of Columbia. And while there are traffic problems all over the DMV, there are few that are as reliable headaches as the northbound 14th Street Bridge, which is the part of the crossing that will be upgraded. Good luck crossing it during rush hour. An interstate highway crosses it! It's almost always busy! Why do the lanes divide that way?! It's insane!
But despite its myriad problems, local officials told the Washington Post the "workhorse bridge" carries 88,000 cars a day:
Officials said one key upgrade will be replacing a deteriorating section that was once movable with a new fixed span. Elsewhere, cracks will be addressed, concrete and steel repaired, bearings replaced and piers modified.

Structurally deficient steel barriers meant to prevent errant vehicles from falling into the river below will be replaced with new crash-tested barriers. The city has erected temporary concrete barriers in the shoulders for safety, but that makeshift fix can lead to other problems, such as a blockage of traffic lanes.

Traffic volumes on the nearly half-mile bridge are among the highest in the District, according to project documents.
So not only will this upgrade make the bridge safer, it'll have the knock-on effect of improving congestion. Legit.
Harris, however, wasn't the only Biden administration official out and about on Thursday talking about bridge projects. U.S. Transportation Secretary Pete Buttigieg – whose U.S. Department of Transportation will shortly make an importation decision on how to interpret Buy America rules – was in New York to highlight other federally funded bridge repairs, and senior advisor Mitch Landrieu who was at a newly announced bridge project in Madison, Wisconsin. They were among half a dozen other projects announced across the country, and the federal grants awarded to them total close to $300 million.
Where's all this money coming from, you ask? The 2021 Bipartisan Infrastructure Law, and it, along with the semiconductor-related CHIPS Act and clean tech-focused Inflation Reduction Act, is among the major industrial policies that President Biden and his appointees have barnstormed in support of over the past month.
The infrastructure bill is important on its own – there are tens of thousands of structurally deficient bridges that need to be fixed – but, crucially, it passed with a significant update to existing Buy America rules attached to it.
That update expands the modes of infrastructure covered by these rules, expands the materials under the contracts that have to abide by them, and tightens the rules so existing loopholes are much harder to exploit.
They're a big deal, and will direct a lot of business to American manufacturers and workers, when fully implemented. But they haven't been yet, and the Department of Transportation is right now considering granting a general applicability waiver for manufactured products covered by Buy America. You can let officials know that shouldn't happen. The 14th Street Bridge repair project and others like it should be done by American workers with American-made materials.