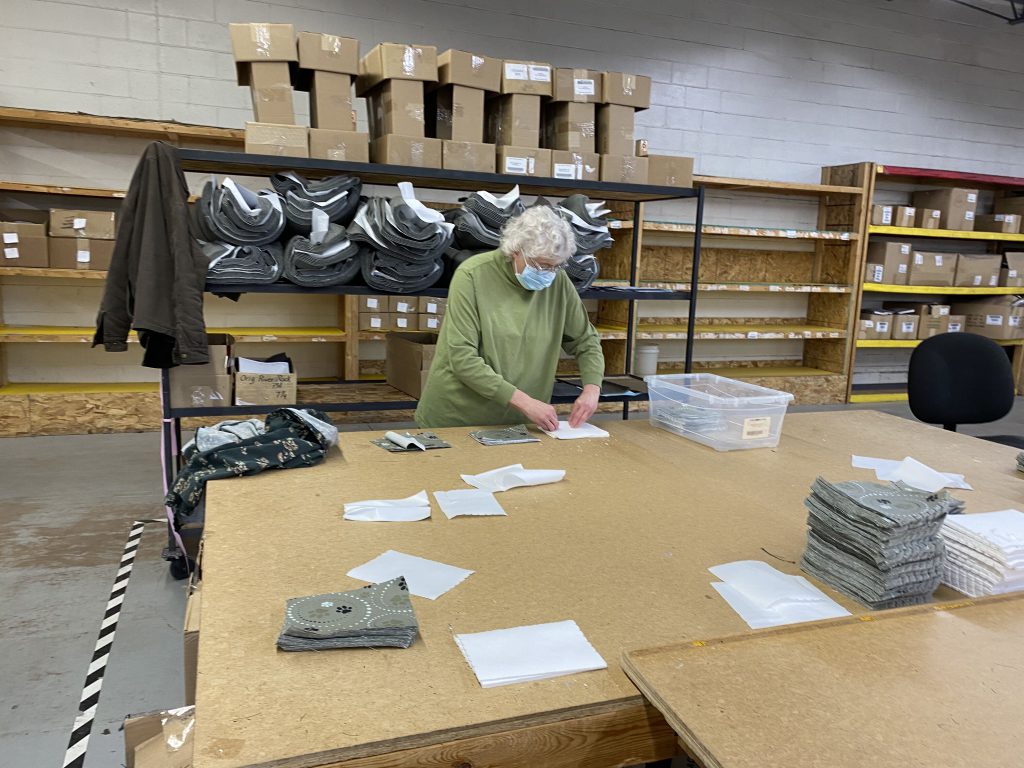 The Michigan company is producing PPE for medical personnel, including in underserved rural areas.
It was less than two months ago that Northern Michigan manufacturer Stormy Kromer was lauded in this space for its resiliency in manufacturing its signature hats into its 117th year of production.
Manufacturing continues today at the Ironwood, Mich. facility, but it is face masks and hospital gowns that have taken over the production floor.
Stormy Kromer has joined a long list of American-made manufacturers that are helping with the fight against the deadly Covid-19 virus by making much-needed personal protective equipment (PPE) for use in several upper Midwest rural medical facilities.
Stormy Kromer, a division of Jacquart Fabric Products, switched all of its operations into making the desperately needed protective gear on March 25 after having completed a prototype the previous Sunday.
After a Stormy Kromer team of engineers, pattern makers, sewers and production leadership completed a prototype mask, a company representative drove it immediately to a destination to Madison. Wis. for a rendezvous with a purchasing agent from the University of Wisconsin Health Systems, who took the prototype back to the Madison hospital for inspection.
A few tweaks and minor changes were suggested by hospital medical staff, and the Stormy Kromer team was quickly cutting and sewing face masks three days later.
"We really did it in conjunction with the hospital in Madison that was the first to contact us," said Stormy Kromer President Gina Thorsen. "They had some ideas on design and fabric, so we were working closely with them last week and over the previous weekend. We had only just started on the engineering of the items on that Sunday and by last Wednesday, our first day of production, we completed 1,000 masks.
"Right now, we are shooting for making 2,500 masks per day and this week we just started on the gowns. Our first order went to UW Health Systems in Madison and a small community hospital near us, but we are taking orders from all over."
Stormy Kromer was in a unique position to get its mask production rolling quickly having a surplus of materials, a nearby supply chain and a workforce that was ready to get right back to work after hat production was suspended because it was considered non-essential.
About 50 to 60 of Stormy Kromer's 90 employees are back on the job after a reconfiguration of the factory floor to keep workers at a safe distance from one another.
The face masks, that were green-lighted by the hospital, are made with cotton on the inside and a polypropylene covering on the outside. They are making two versions of the mask – one with elastic and another with ties that are used on some of the Stormy Kromer caps.
"We've got the right machines and we probably have more machines than we have people working right now," Thorsen said. "It's like if you were sewing a different weight of fabric. It's just a matter of using a slightly different needle or different thread, but the machine itself is still fine for the job.
"We have two of the CNC cutting machines and so those are running and we were even talking today that we might need to run even a second half shift on cutting just to be cutting enough to use all of our current equipment."
Stormy Kromer is not only helping to serve a more rural hospital environment, but is also making the masks for first responders, nursing homes and all types of health facilities. It has the equipment, the workforce and a healthy supply chain.
"We had a bunch of elastic on hand from a prior contract that had ceased about six months ago, so the elastic was a good start," Thorsen said. "We were even able to get an order in to our supplier for more elastic.
"The fabric we purchased from our supplier, there was a ton of it, this polypropylene coated stuff and our sourcing people are looking for what would be next I we should run out of it. The cotton, we are using what we had on hand as well, and that should last us for a good long while, and if we were to run out we should be able to get our hands on cotton twill pretty easily if we need to.
"We were lucky that we had a lot of materials either on hand or that we could get pretty quickly. Knock on wood, so far that has not been a big issue for us."
The coronavirus hasn't hit quite as hard in the sparsely populated areas of Michigan's Upper Peninsula and Northern Wisconsin, but with a Covid-19 death in Gogebic County where Ironwood is located, people are doing the best they can and preparing for the worst. They are aware of the devastation taking place downstate in Detroit.
Thorsen's father, Bob Jacquart, is the owner of Jacquart Fabric Products. He purchased the Stormy Kromer brand in 2001 and moved it to his sewing facility in Ironwood. George "Stormy" Kromer founded the company in Wisconsin in 1903 and the Kromer family owned the company until the early 1960s.
"My dad is managing the requests directly, so I don't know the exact details, but I know we've gotten a lot of requests from lower Michigan and the Detroit area," Thorsen said. "It is interesting, it seems like we are hearing from a lot of the smaller hospitals and rural hospitals. When allocations are given to a state it seems like some of those smaller counties are not getting stuff. It is going to the larger areas.
"So, a lot of what we are hearing from our more rural areas is they are just looking to have something. It is interesting to see the mix of people that are reaching out to us."
And it didn't take long for Stormy Kromer employees to reach out and lend a helping hand.
"Our employees who are able to come back are grateful and very proud to be using their skills on something so vital right now," Thorsen said. "The folks that have come back are so happy and proud to be here, it really been great for the morale of our company."
The Stormy Kromer company is more than a century old. It survived the Great Depression, World War II, the Great Recession and the mass offshoring of the apparel industry.
Said Thorsen: "We'll get through this too, and we're glad to be a part of the solution."